This is not an ordinary day. This is the day I have double-checked my eyeliner, grabbed my favorite Poke Bowl and now I am speeding my wheelchair to Uppsala Central Station to catch my train to Stockholm because I have an onward train to Gothenburg. Coming to Sweden from Pakistan and as a woman with a disability, I signed up for much more than just a degree in Entrepreneurship from Uppsala University. I signed up to explore stories and become a character in one of them and being a solo traveler on a wheelchair is all about that. Less did I know a simple holiday to Gothenburg on the 15th of August 2022 will leave me asking for more accessibility in Sweden and less adventure? It will also make me meet some superheroes and be part of their stories.
It all started with a checklist that every traveler with a disability must have:
> Emailed the Hotel about my accessibility needs. Check
> Booked seats with the disability sign on the booking App. Check
> Pack all the colorful clothes for epic pictures. Check
But once I reach the train, the ramp is there. But it is too small and does not cater to an average wheelchair.
so I am politely asked to take the next train by the same company which never arrives and after waiting an hour with the frustration of missing my connecting train as well and watching my avocados get soggy in the Salad bowl, I get on the next available train which is heading to Stockholm in hopes of not giving up on my solo trip and finding a way to reach Gothenburg by hook or by crook. And this is where a stranger reaches to help get my wheels to touch the floor of the train. I later learn that his name is Ntwari Aime Christian and he is from Burundi and works for Ryan Air.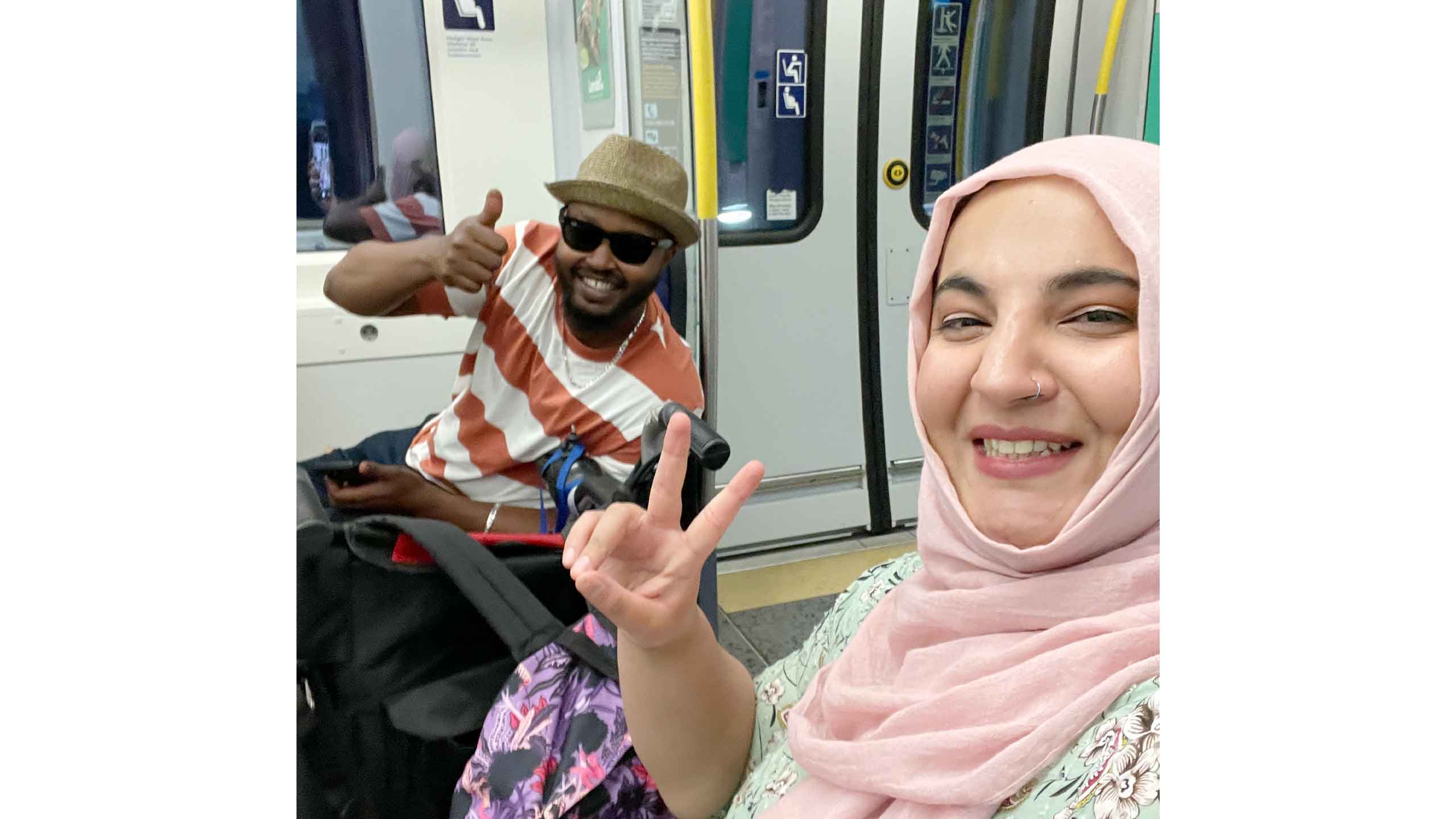 He was headed to Arlanda Airport at the time for the shift. We strike a conversation on our similarities and our stories and exchange numbers to meet for Coffee in Uppsala once I am back. I get off on the Stockholm Central station and I am met with a helper on the station who politely told me he doesn't know anything and he is here to take me to the ground floor. I politely told him that I use a powered wheelchair.
As I had obviously missed my connection train, I did not lose my sense of excitement and booked another night train which was 11 times more costly and I waited 2 hours to get on that one only to be refused at the door again because it was also not accessible. I sat there chatting with Victoria who was from the support staff. I learned that she loves languages, culture and is not on social media. This time I was not fully abandoned at Stockholm station at 11 pm in the night and SJ booked a room for me at Scandic Hotel.
Victoria decided to walk with me and we both shared our love of empty lanes that have abundance of stories. Upon reaching Scandic Hotel, I saw a long cue of victims of mismatched plans because of who. Let's not point fingers!
I decided to take a flight to Gothenburg the next day on 16th of August. While booking my flight on Ryan Air, I realized I can't book assistance for wheelchair passengers because the flight time was too close. I open my phone and text Christian who was probably not expecting me to get coffee that soon. I explained the situation I was in and needed help and he told me though he had an off day, he was still coming to Arlanda Airport the next day.
The next day I got up, got dressed and headed to Stockholm Central Station to board Arlanda Express for my flight. And this is where I experience the most dramatic entry of my life. With my wheelchair slowing down for no reason with only one minute left for the doors to close of the train, I raised my right hand and tried to leap ahead in an attempt to start flying. The conductor took pity and stepped on the door to keep it open. I leaped in and the doors closed and I gave a sigh of gratitude and thanked her. This also meant one more thing that I had not bought my ticket yet and I struggled to purchase one as soon as possible before I could you know what. Get my throat sliced.
> Ticket. Check
> Reach Arlanda Airport. Check
And then I am relieved to see Christian´s face and we both share a moment of amusement of how life plays out events. He helps me at every step of the check-in and boarding and ensures I get support as much as I needed. I finally boarded the flight and landed in Gothenburg within one hour only to be met with another adventure.
The shuttle service to take passengers from the Airport to the city centre was not accessible and there was no information available on how a wheelchair user can get to the city centre without taking a costly option of taxi.
I met with Malin Levin at the information desk and explained that since Airport had commissioned the shuttle service, they were responsible to provide wheelchair users with an option in the same price that is accessible. Malin did not waste a single minute and started speaking to the authorities and got me a taxi arranged in the same price to the city center.
I checked into First G Hotel, Gothenburg Central Station that morning only to dive into the bed and snore. For the next two days, Gothenburg did everything to cheer me up and I immersed in the city like a child in a candy store. I hit the streets to observe, explore and spin myself around. I visited Museum of Culture and Museum of Art, saw a sing along theatre show, Moulin Rouge. I had pasta from Vapiano one day and Poke Bowl the next day.
I met a couple where husband was wheelchair bound and they shared their story with me and invited me to an event but that was after the day I would leave Gothenburg but we exchanged numbers and decided to stay in touch. I also met a retired architect who had worked in Tanzania his whole life. His first expression on seeing me, ´You are all by yourself. This is wonderful! ´. He used a scooter to move around and we sat in the sun chatting about our current lives.
During the visit at Museum of Culture, I sat next to another visitor named Daniel from Spain and we both colored parts of a human figure on the paper where we should feel loss. I colored the legs and then colored a heart where it beats and instantly knew that as long as the heart beats, loss is not all lost. Daniel also followed my lead and drew a heart on his sketch and we both smiled. I also smiled at Christian, Malin and Victoria who were heroes in my story of accessibility.
On my way back to Uppsala, I was able to get on the train with tears of joy. I saw beautiful fields and imagined dancing and running in each one of them. I also saw the rainbow and realized in the story of accessibility, above policies, structures and systems are people and we can't achieve inclusion without community.
Stay connected:
Instagram: @iamtanzilakhan
Twitter: @Tanzila__Khan